"bunch of crazy white people... "
Every Billboard Modern Rock Chart #1 through 2005, listed in order of preference.
157. INXS, "Suicide Blonde"
September 22 - 28, 1990
Someone should give the music of Michael Hutchence a thorough, reverent reading. Someone who doesn't write him off as a pretentious, hip-shaking himbo. Someone who doesn't think he's outshone by the harmonica. Someone who isn't me.
Got some revelation
Put into your hands
Save you from your misery
Like rain across the land
Don't you see
The colour of deception
Turning your world around again
158. Beastie Boys, "Ch-Check It Out"
June 19 - July 2, 2004
"So Watcha Want" - #22 Modern Rock. "Sabotage" - #18 Modern Rock. "Intergalactic" - #4 Modern Rock. Obviously, this says more about the format than the songs or their popularity.
Don't test me
They can't arrest me
I'll fake right, cross-over and shoot lefty
You look upset, yo calm down
You look like cable guy jumped off of your crown
I flow like smoke out a chimney
You never been me
You wanna rap but what you're making ain't hip hop, b
159. Love & Rockets, "So Alive"
June 24 - July 28, 1989
July 4th, 1989. Greeley, CO. I'm watching a long stretch of classic cars roll down the street to this song as part of the parade. Seemed goofy then, seems goofy now.
Don't know what colour your eyes are, baby
But your hair is long and brown
Your legs are strong, and you're so, so long
And you don't come from this town
160. Replacements, "I'll Be You"
March 11 - 17, 1989
So sneery & obtuse for a polished radio hit: the missing link between Nirvana & John Mellencamp.
Well, I laughed half the way to tokyo
I dreamt I was surfer joe
An' what that means, I don't know

A dream too tired to come true
Left a rebel without a clue
And I'm searching for somethin' to do
161. Green Day, "Boulevard Of Broken Dreams"
December 11, 2004 - April 1, 2005
Better than an apolitical 21st century multiplatinum hit by political punkers that humorlessly lifts a climax from Aerosmith, lyrics from Whitesnake and a lope from Nickelback, has any right to be. When I'm drunk I'm able to appreciate the song's grand, slow swing, ironically making it less depressing than when I'm sober.
My shadow's the only one that walks beside me
My shallow heart's the only thing that's beating
Sometimes I wish someone out there will find me
'Til then I walk alone
162. Depeche Mode, "Walking In My Shoes"
May 15 - 21, 1993
For all I know, there may be precedent on one of those 80s full-lengths, but I'm still surprised that the Mode ever wrote a song so nakedly self-impressed. The novelty of hearing it come from formerly fey twerps is what makes the shameless grandiosity kind of cute. Play arenas long enough and you'll become workmanlike, Zeppelin-like or both.
I'm not looking for a clearer conscience
Peace of mind after what I've been through
And before we talk of repentance
Try walking in my shoes
Try walking in my shoes
You'll stumble in my footsteps
Keep the same appointments I kept
If you try walking in my shoes
163. Gorillaz feat. De La Soul, "Feel Good Inc."
August 27 - October 15, 2005
Nice groove, nice rap, but I don't get off on Damon Albarn interrupting either.
Windmill, Windmill for the land.
Turn forever hand in hand
Take it all in on your stride
It is sinking, falling down
Love forever love is free
Let's turn forever you and me
Windmill, windmill for the land
Is everybody in?

164. Jane's Addiction, "Stop!"
September 1 - 7 & 15-21, 1990
Everybody hop on the liberal sex rollercoaster! Wheee!
Gimmie that!
Gimmie that - your automobile,
Turn off that smokestack
And that goddamn radio
Hum... along with me...
Hum along with the t.v
165. Sting, "All This Time"
January 26 - February 8, 1991
As a child, not yet aware of the glories of harsher collegiate music, the VH1 intelligentsia seemed like an adult ideal. I wish I didn't have fond memories of these hooks; with fresh ears, I could give this overlong, tepid bullshit the disdain it deserves.
And all this time, the river flowed
Endlessly to the sea
If I had my way I'd take a boat from the river
And I'd bury the old man,
I'd bury him at sea
166. Bush, "The Chemicals Between Us"
October 23 - November 5, November 13 - 26 & December 4-10, 1999
Some may consider the addition of keybs and loops a sell-out, but I think Gavin was just adapting to the modern sound with his usual raspy conviction.
The chemicals between us
The walls that lie between us
Lying in this bed
The chemicals displaced
There is no lonelier state
Than lying in this bed
167. Incubus, "Megalomaniac"
February 21 - April 2, 2004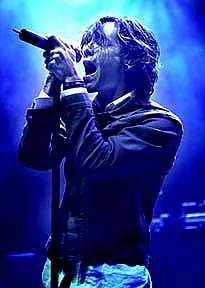 Reverently defending Jesus & Elvis from pretenders like Scott Stapp & Fastball.
I hear you on the radio
You permeate my screen, its' unkind but
If I met you in a scissor fight
I'd cut off both your wings on principle alone
On principle alone
168. Elvis Costello, "Veronica"
March 18 - 31, 1989
The best Fastball song of the eighties? By default?
Veronica sits in her favourite chair and she sits
very quiet and still
And they call her a name that they never get
right and if they don`t then nobody else will
archives
links
Anthony Is Right
Popular
Boogie Fever
Land Of A Thousand Dances
e-mail
anthonyisright at gmail dot com