"bunch of crazy white people... "
Every Billboard Modern Rock Chart #1 through 2005, listed in order of preference.
85. Lou Reed, "What's Good"
February 8-28, 1992
A gets replaced by E minor because we're dealing with death rather than Sweet Jane. D and G hang around, though, to reaffirm that Lou & you are still alive.
Life's like Sanskrit read to a pony
I see you in my mind's eye strangling on your tongue
What good is knowing such devotion
I've been around - I know what makes things run
86. Linkin Park, "Numb"
November 22, 2003 - February 13, 2004
I've yet to forgive Jay-Z for galumphing all over this tender, cathartic ode to breaking free from parental control. He could have at least learned the part about being caught in the undertow.
I've become so numb I can't feel you there
I've become so tired so much more aware
I'm becoming this, all I want to do
Is be more like me and be less like you
87. Papa Roach, "Last Resort"
August 5-11 & August 19 - September 29, 2000
Yeah, it's not exactly "Crazy Train," but you have to understand that we're living with a Three Eleven mentality now.
Cut my life into pieces
This is my last resort, suffocation, no breathing
Don't give a fuck if I cut my arm bleeding
Would it be wrong, would it be right
If I took my life tonight, chances are that I might
Mutilation out of sight and I'm contemplating suicide
88. Morrissey, "Tomorrow"
August 15 - October 5, 1992
Do you looove me? Do you loooove me? Do you loooove me? Now...that I...can glam? Glam? GLAM? Watch me now, oh!
Oh! The pain in my arms!
Oh! The pain in my legs!
Oh! My shiftless body.
Tommorrow,
It's surely nearer now.
89. Talking Heads, "Sax And Violins"
February 1-7, 1992
"Drugs"-like atmospherics over rolling percussion, it's a patchwork epitaph made of '88 outtake material that actually works better than anything on
True Stories
or
Naked
save "Nothing But Flowers." Eerie and ethereal while percolating with energy, a surprise bit of futurism from a dead band.
They're searching for diamonds
They're grabbin' at straws
Sex 'n' sin
Sax 'n' violins
It's hell
Wooden heads
Furniture with legs
For sale
90. Psychedelic Furs, "House"
January 20 - February 9, 1990
Using Lydon's signifying timbre to pimp platitudes over reverb-rock, which might be offensive if Lydon didn't wind up trying it himself. You could even say the Furs were simply entertaining "Public Image" fans while they waited out the avant-garde for "Rise." Mixing the vocal styles of Lydon and Bowie into something commercially appealing (hell, sufferable) is probably a lot harder than Richard Butler made it look.
the passing time is not my life
I've been counted down and shouted out
I had everything i wanted
nothing I can't rise above
to let it show was not my plan
91. B-52's, "Good Stuff"
September 11 - August 7, 1992
With Fred and Kate flapping arms and rolling eyes to make up for Cindy's absence, it's not like the music needs a face anyhow.
The big dipper sure ain't big enough
To hold all of your dang good stuff
So let the people say we're down right nasty
I just say we're down right
92. Eve 6, "Inside Out"
August 8-21, August 29th - September 4 & October 3-9, 1998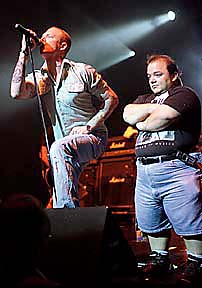 The first of two terrific late-90s hits to sound like Fugazi and use the phrase "put my tender heart in a blender." This one, with its rawer production, lyrical ambition and lack of Fred Durst, would probably appeal more to your true believers in rock'n'roll.
I would swallow my pride
I would choke on the rhines
But the lack thereof would leave me empty inside
I would swallow my doubt
turn it inside out
find nothing but faith in nothing
Want to put my tender heart in a blender
Watch it spin around to a beautiful oblivion
Rendezvous then I'm through with you
93. R.E.M., "What's The Frequency, Kenneth?"
September 24 - October 28, 1994
Don't bitch about the rhythm section! Not only was it thematically appropriate to lag behind the guitar pedals, Mike's appendix went kablooey during the final chorus! I don't he was recording the background vocals at the same time, though. Can't hear a "YEAARRRGGHH, MY APPENDIX!" anywhere.
I'd studied your cartoons, radio, music, TV, movies, magazines
Richard said, "Withdrawal in disgust is not the same as apathy"
A smile like the cartoon, tooth for a tooth
You said that irony was the shackles of youth
You wore a shirt of violent green, uh-huh
I never understood the frequency, uh-huh
94. Camper Van Beethoven, "Pictures Of Matchstick Men"
October 21 - November 10, 1989
During an elementary school sleepover in Greeley, Colorado, me and my friends wandered past the video for this, immediately amused by the eye in the television and the cattle or whatever the hell oddball imagery they'd worked up. I missed the credits, leaving me with nothing but a haunting memory until my young adolescent alt-foraging in Bloomington, Indiana inspired me to check
Key Lime Pie
out of the library and I found myself wrapped in the melody again. Oh, my little underground! What gifts you bring to me! Soon after, I heard the Status Quo's original version in a soda ad, which should have been more humbling than it was.
When I look up to the skies
I see your eyes a funny kind of yellow
I rush home to bed I soak my head
I see your face underneath my pillow
I wake next morning, tired, still yawning
See your face come peeping through my window
95. Foo Fighters, "Best Of You"
July 9 - August 26, 2005
Is he saying you have to be willing to give or is he telling you to keep an eye out for sexy vampires? Does he even know? Dave probably thinks if he could just hit the right dramatic pitch, a door would open and everything would make SENSE, dammit! When he pulls off the pomp this triumphantly, shaming the arrangement skills of his young Fuse airtime competitors, you almost wish God would strike him down so that he wouldn't fuck up his romantic life again and have to write another one.
Has someone taken your faith?
It's real, the pain you feel
The life, the love
You'd die to heal
The hope that starts
The broken hearts
Your trust, you must
Confess
96. U2, "Mysterious Ways"
November 30, 1991 - January 31, 1992
It might be creepy that they have to pretend she's Jesus to get it up, but they do get it up.
To touch is to heal
To hurt is to steal
If you want to kiss the sky
Better learn how to kneel
On your knees, boy

archives
links
Anthony Is Right
Popular
Boogie Fever
Land Of A Thousand Dances
e-mail
anthonyisright at gmail dot com