"bunch of crazy white people... "
Every Billboard Modern Rock Chart #1 through 2005, listed in order of preference.
37. Modest Mouse, "Float On"
September 31 - August 6, 2004
An appropriate smash for a time of Talking Heads reissues and Pixies reunions; "Once In A Lifetime" through the mouth of Black Francis and Joey Santiago's echo box, conclusive proof that these 80's eccentricities are now accepted as pop moves.
I backed my car into a cop car the other day
Well he just drove off, sometimes life's ok
I ran my mouth off a bit too much, oh what can i say
Well you just laughed it off, it was all ok
38. Butthole Surfers, "Pepper"
September 6-26, 1996
Possibly the funniest example of hell freezing over.
I don't mind the sun sometimes
The images it shows
I can taste you on my lips
And smell you in my clothes
Cinnamon and sugary
And softly spoken lies
You never know just how you look
Through other people's eyes
39. Three Doors Down, "Kryptonite"
May 20 - August 4, 2000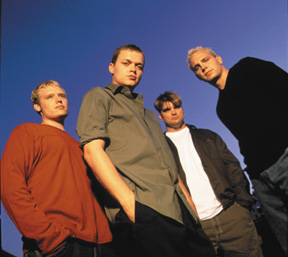 Everybody's gloomy and grey except for the drummer, who won't stop playing the Van Halen diddybop beat, forcing the others to actually
throw
their weight around, and make their male anxieties shuffle. Sadly, he'd learn to blend in with the earnest slog on subsequent singles.
You called me strong, you called me weak
But your secrets I will keep
You took for granted all the times I never let you down
You stumbled in and bumped your head,
If not for me then you would be dead
I picked you up and put you back on solid ground
40. Cracker, "Teen Angst (What The World Needs Now)"
May 8-22, 1992
Bitter from years attempting the musically esoteric and deconstructive or what-the-fuck-ever, David Lowery succeeded in selling out (it was in an ad before being a college-rock band in ads was cool) by celebrating booze and loose women over monochromatic bar rock, admittedly with irony, sardonicism and plaid.
Cause what the world needs now
is a new kind of tension
Cause the old one just bores me to death
Cause what the world needs now
is another folk singer
like I need a hole in my head
41. Third Eye Blind, "Semi-Charmed Life"
May 24 - June 27 & July 5-25, 1997
I had this whole paragraph planned out, but all I can think about right now is how much it resembles a Ghostface track: eccentric sex memoir about two drug addicts, hooky break, excruciating high notes. Stephan has a better vocal range too! Doesn't
always
sound like he's crying.
The sky was gold, it was rose
I was taking sips of it to my nose
And I wish I could get back there
Some place back there
Smiling in the pictures you would take
Doing crystal meth will lift you up until you break
42. Nirvana, "Smells Like Teen Spirit"
November 23-29, 1991
They looked like the scary high school kids smoking across the street from the parking lot as my elementary school bus drove past, folk too awkward for Skid Row to represent. This tether to reality made the song and video seem like a far scarier breed of metal than that created by leather-clad showmen, who were already evolving into acoustic cowboy-balladeers. Catchy enough to make the network, but unpredictable and uncommon (I was pre-pubescent and hadn't heard
You're Living All Over Me
, ok?). When
Rolling Stone
revealed that the band wasn't metal at all, I was happy to accept them as fellow bitter nerds. Even those of you who thought it was glossy
Bossanova
had to find the moment startling.
With the lights out, it's less dangerous
Here we are now, entertain us
I feel stupid and contagious
Here we are now, entertain us
43. Red Hot Chili Peppers, "By The Way"
June 29 - October 4, 2002
Sometimes I like to imagine that Bill Berry stayed in R.E.M. and the band recorded this song, deciding to liven their mid-90s sound with some "Radio Song" funk. Putting some rap-rock in your "pure pop" always makes for a more interesting exprience.
Standing in line to see the show tonight
And theres a light on, heavy glow
By the way I tried to say I'd be there
Waiting for...
Dani the girl is singing songs to me
Beneath the marquee of her soul
By the way I tried to say I'd be there
Waiting for...
44. Soul Asylum, "Somebody To Shove"
December 5-11, 1992
Brian Krakow is running down the sidewalk with tears in his eyes. He has to tell her how feels! He has to tell her NOW!
Hello, speak up, is there somebody there?
These hang-ups are getting me down
In a world frozen over with over-exposure
Lets talk it over, lets go out and paint the town
45. XTC, "The Mayor Of Simpleton"
April 1 - May 5, 1989
Sam Cooke's "What A Wonderful World"...with a click track!
Im not proud of the fact that I never learned much,
Just feel I should say,
What you get is all real,
I cant put on an act,
It takes brains to do that anyway.
46. Alien Ant Farm, "Smooth Criminal"
August 25 - September 21, 2001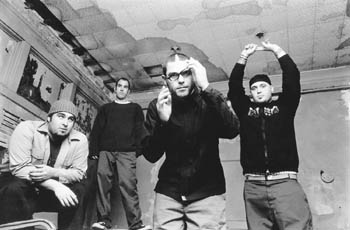 A metallized update of a classic tale of horror and anxiety that was #1 both for MJ's 40th birthday extravaganza and the fall of the Twin Towers. Coincidence? Read the book.
Annie, are you OK
Will you tell us that you're OK
There's a sign at the window
That he struck you
A crescendo, Annie
47. U2, "Vertigo"
November 6 - December 3, 2004
R.E.M. circa
Monster
with Enrique Iglesias the mic and a firecracker up their collective ass? Lyrics that are
intentionally
funny? Feverish with dreams of compassionate consumerism, Bono and the boys whipped up a dizzy jam as ridiculous as a forty-something guitarist named "the Edge" who always wears a hat indoors and throws the same damn ringtone lead on every track. The rest of the accompanying album may have been their direst to date, but this frightening trip to the
carnivale
earns them their presidential photo-op.
The night is full of holes
Those bullets rip the sky
Of ink with gold
They twinkle as the boys play rock and roll
They know that they can't dance
At least they know
48. Blink-182, "All The Small Things"
December 25, 1999 - February 18, 2000
"I wanted the Sex Pistols to compete with the Bay City Rollers." - Malcolm McLaren
"Can you imagine Johnny Rotten singing 'Shang a Lang'? Heh heh!" - John Lydon
Late night, come home
Work sucks, I know
She left me roses by the stairs
Surprises let me know she cares
archives
links
Anthony Is Right
Popular
Boogie Fever
Land Of A Thousand Dances
e-mail
anthonyisright at gmail dot com