"bunch of crazy white people... "
Every Billboard Modern Rock Chart #1 through 2005, listed in order of preference.
49. Goo Goo Dolls, "Slide"
October 31 - November 6 & November 14-20, 1998
Watered down Westerberg or Westerberg with spine? She's had an abortion, he's got no male role model, but he wants to get hitched, take her down Thunder Road and have really good sex rather than bawl about his dissatisfaction and curse her answering machine. I saw these guys on VH1 Classic the other day and I have to wonder if Johnny Rzeznzik's current botox'n'big-ballad strategy represents the misguised impulses of a provider rather than the usual has-been hackery. According to their Behind The Music, he's got four older sisters and his parents died before he was 16! No wonder he wants to please the ladies.
Don't supposed I'll ever know
What it means to be a man
It's somethin' I can't change
I'll live around it

I wanna wake up where you are
I won't say anything at all
So why don't you slide?
50. Nickelback, "How You Remind Me"
September 22 - December 21, 2001
They got a great lope going on this breakthrough hit, with Chad swishing his hair, growling about what a dumbass he is. What kills me is that they never went for a catchy, campy groove again, hanging around the pop chart with a series of identical ballads and the unforgivable "Figured You Out," in which commercial success helps Chad realize that he only put up with you because he likes blowjobs, and he can get his "favorite disease" anywhere now. YEAH! YEAH! YEAH!
oh no...It's not like you didn't know that
I said I love you and I swear I still do
And it must have been so bad
Cause living with me must have damn near killed you
51. Green Day, "When I Come Around"
January 17 - February 24, 1995
I'd say that most people don't realize what a passive-aggressive track this is (I took it for an anonymous and mandatory change-of-pace dawdle back when the video was omnipresent), but judging by the current emo crop, a lot of young men who aren't as sensitive as they think they are took this philanderous asshole's love letter to heart. Not that any of theirs hold up as well.
Dont get lonely now
And dry your whining eyes
I'm just roaming for the moment
Sleazin my backyard
So don't get so uptight
You been thinking about ditching me
52. Queens Of The Stone Age, "No One Knows"
February 8 - March 7, 2003
Combining Hall and Oates with Jethro Tull, mapping vistas in rock that few would dare explore.
I drift along the ocean
Dead lifeboats in the sun
And come undone
Pleasantly caving in
I come undone
53. Nirvana, "You Know You're Right"
October 26 - November 22, 2002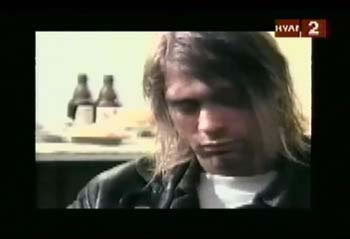 The
paaaaaaiiinnn
fits in fine with modern rock radio 2K, but the sound's thinner here - scratching rather than beating - and Kurt's voice has a weak, ugly hurt far beyond the macho, mundane button-pressing most career rockers offer. If the band hadn't helped usher bad-vibes pop-metal into the rock chart, songs like this would probably be considered too arty to promote.
I will move away from here
You won't be afraid of fear
No thought was put into this
I Always knew it would come to this
54. The Cranberries, "Salvation"
May 11 - June 7, 1996
They were excruciatingly self-righteous dumbasses by this point, but rarely did they put their simple-minded messages in an aggro two minutes thirty blitz complete with horns and "uh huh huh" breaks. The Osmonds got there first, but more bands should go there.

to all the kids with heroin eyes
don't do it, don't do it
cause

it's not not what it seems
no no it's not not
what it seems
55. Fuel, "Hemorrhage (In My Hands)"
November 4, 2000 - January 26, 2001
If you're offended by the idea of some listmaking critnerd admitting a soft spot for bawling power ballads from douchey commercial rock acts whose sensitivo moments are somewhat suspect, I suggest you leave before things get even uglier. And you "Sister Christian" folks who can dig them only as long as they're safely in the VH1 "what was
that
about?" ironic nostalgia zone? Eat it.
Oh, hold me now, I feel contagious
Am I the only place that you've left to go?
She cries her life is like
some movie in black and white
dead actors faking lines, over and over and over again she cries
56. Unwritten Law, "Seein' Red"
May 11 - June 7, 2002
When people see the Unwritten Law t-shirt I got as a radio promo back in college, I usually tell them it's "just a shirt I got for free" without going into how I do love that one power ballad where he sounds like he's all cried out after some rejection, with logic and pride starting to reappear in his mindset. It's not like I'd wear Creed or Nickelback shirts for the vulnerable ballads they've occasionally dropped - their relative anonymity is what got these forgettable festival vets on my chest.
So follow the leader down
And swallow your pride and drown
When there's no place left to go
Maybe that's when you will know
57. Cake, "Never There"
December 5 - 25, 1998
Is this track too lively to be considered trip-hop? Aside from the tempo, it's very Portishead!
On the phone long, long distance
Always through such strong resistance
First you say youre too busy
I wonder if you even miss me
58. Red Hot Chili Peppers, "Scar Tissue"
June 26 - October 15, 1999
Re-energized and yet unafraid to show their age, it was actually a
great
idea to rewrite "Soul To Squeeze."
Soft spoken with a broken jaw
Step outside but not to brawl
Autumn's sweet, we call it fall
I'll make it to the moon if I have to crawl and
With the birds I'll share
This lonely view...
59. Sinead O'Connor, "Nothing Compares 2 U"
March 31 - April 6, 1989
I'll always wonder if her pop status would have survived the pope nonsense if she had been hawking this song rather than an album of Broadway ballads and standards at the time. But when you hear her improve and take ownership of a Prince song (beforehand, they usually improved and took ownership of you), one can understand why she thought she could get away with an album of Broadway ballads and standards.
I went to the doctor n'guess what he told me
Guess what he told me
He said girl u better have fun
No matter what u do
But he's a fool
`Cause nothing compares
Nothing compares 2 u
60. Smashmouth, "Walking On The Sun"
September 27 - October 31, 1997
An acidic song about the corporate co-option of counterculture in the style of early XTC is so far beyond the obligations of McG-directed Cali soundtrack hacks that most people weren't even aware that's what this was.
So don't sit back, kick back and watch the world get bushwhacked
News at 10:00 your neighborhood is under attack
Put away the crack before the crack puts you away
You need to be there when your baby's old enough to relate

archives
links
Anthony Is Right
Popular
Boogie Fever
Land Of A Thousand Dances
e-mail
anthonyisright at gmail dot com