"bunch of crazy white people... "
Every Billboard Modern Rock Chart #1 through 2005, listed in order of preference.
13. Hole, "Celebrity Skin"
October 10-30 & November 7-13, 1998
She tried! Oh LORD, how she tried! She got one album out between the crises, fighting in vain to rescue female-led arena rock from Lilith-hood. Great singles! Great look! Great interviews! Unfortunately folks decided that she wasn't as exciting and noteworthy as an Ooky-Spooky Sex Monster and Rap's Great White Hope. We failed
her
, you know.
When I wake up in my makeup
Have you ever felt so used up as this?
It's all so sugarless
Hooker/waitress
Model/actress
Oh, just go nameless
14. New Order, "Regret"
May 1-14 & May 22 - June 17, 1993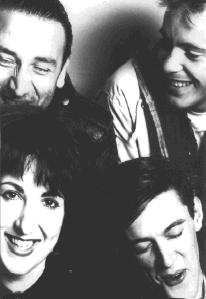 Rather than try to parse the lyrical content, I'm just going to assume that the beauty of the music has yet again sent Bernard into blithering incoherency, as it so often does to their fans ("then Peter does his treble thing and then the guitar comes in and the drums start up and...").
Maybe I've forgotten the name and the address
Of everyone I've ever known
It's nothing I regret
Save it for another day
It's the school exam and the kids have run away

15. Live, "Lakini's Juice"
March 1-7, 1997
Ed Kowalcyk gets all het up about some Eastern fertility goddess (I think!) and repeatedly shrieks "LEEEET MEEEE RIIIIIIDE" over a particularly vicious rewrite of "Kashmir!" Creepy! Arty! Intensely melodramatic about something his fans don't understand, helping Pearl Jam and the Beastie Boys accidentally create an audience for Creed out of confused monotheistic fans of yarl rock! Now THAT'S how you kill the goose!
inside the outside, by the river, used to be so calm
used to be so sane
I rushed the lady's room
took the water from the toilet
washed her feet and blessed her name
16. Puddle Of Mudd, "Blurry"
January 26 - March 29, 2002
Nirvana didn't sell eight million copies because they covered the Vaselines; Kurt Cobain was an angry, girl-obsessed rocker from a small town with a knack for hooks, taking bad-vibes metal to new levels of artistic and commercial stature. Wes Scantlin may never have gotten hung up on a member of Bikini Kill, but he's definitely a grumpy, vulnerable metalhead who writes pop songs about how he's losing his shit. At his best, he's guilty of neither mushmouth poetics nor dreams of cock-rock triumph, leaving us with a very affecting if unflattering portrait of confusion, anger and paranoia. Label prez/video director/renaissance man Fred Durst, genius he is, tempered the clip for this weeping seether (you dumped me but only you could set me free *sob* AIEEE!!) by showing Wes as one heck of a weekend dad.
Everything's so blurry
and everyone's so fake
and everybody's empty
and everything is so messed up
pre-occupied without you
I cannot live at all
My whole world surrounds you
I stumble then I crawl
17. Sublime, "What I Got"
October 26 - November 15, 1996
Why would you wanna hate on this, man? What kind of buzzkill are you? So what if that solo ain't much of a ry-ott? Just chill, alright? Don't hate. Have another. Relax.
I don't cry when my dog runs away
I don't get angry at the bills I have to pay
I don't get angry when my Mom smokes pot
Hits the bottle and goes right to the rock
Fuckin' and fightin', it's all the same
Livin' with Louie dog's the only way to stay sane
Let the lovin', let the lovin' come back to me
18. Smashing Pumpkins, "1979"
March 2-8, 1996
Made me nostalgiac for stolen moments of misbegotten youth before I'd really had any or knew for sure what the lyrics were. The video helped, I'll admit, but that metronomic "Dancing In The Dark" uplift works fine on its own.
We don't even care to shake these zipper blues
And we don't know just where our bones will rest
To dust, I guess
Forgotten and absorbed into the earth below
19. Jimmy Eat World, "The Middle"
April 13 - May 10, 2002
It's mildly comforting that, to be
really
successful, a mall-emo band has to drop a single that's worthy of Rick Springfield (this one's even "Jessie's Girl" good!). Some of those album chart debuts might make you think there are no requirements at all, but opening week sales are deceiving.
Hey, don't write yourself off yet.
It's only in your head you feel left out or looked down on.
Just try your best, try everything you can.
And don't you worry what they tell themselves when you're away.
20. The Offspring, "Hit That"
February 14-20, 2004
Goofy dads, morning zoo DJs and prepubescent Weird Al fans of all ages thank you for your trenchant social commentary and exuberant disco-metal, Dexter.
He's sayin' "I´m on a roll
With all the girls I know"
His baby mama
She aint so slow
He's sayin' "Now I´m on a roll
With all the girls I know"
I know you wanna hit that
I know you wanna hit that, hit that
21. Oasis, "Wonderwall"
December 30, 1995 - March 1, 1996 & March 9-15, 1996
Obsessive fanboy desperately wants to let his moping girlfriend know how much she means to him, but he's not the emotionally open type; he can only declare his affection if he ties it to a Beatle reference. When Liam's boredom with the hit threatened to remove the song's emotional weight (the only time their rock trivia Tourette's has ever had any), Noel took it back.
And all the roads we have to walk are winding
And all the lights that lead us there are blinding
There are many things that I would
Like to say to you
But I dont know how
22. Nirvana, "Heart-Shaped Box"
October 16 - November 5, 1993
Revealed how metal plods about being stuck with a devil woman could be artistically impressive, setting the stage for countless sexist post-grunge moans almost entirely devoid of redemptive boogie. See, John Lydon? Being a destructive force in rock isn't necessarily a
good
thing.
Meat-eating orchids forgive no one just yet
Cut myself on angels hair and baby's breath
Broken hymen of your highness I'm left black
Throw down your umbilical noose so I can climb right back
23. Depeche Mode, "Enjoy The Silence"
April 21 - May 11, 1990
I reserve the right to erase these blogs, buy a darker, leather-based wardrobe, and spend my non-working hours playing not but the finest dream-pop and mall-techno. To take roadtrips to faraway hillsides, bringing nothing but sunglasses, a boombox and the original cassingle for this track, which I will have purchased on eBay. If only I could abandon routine, security and the self-conscious pretenses of logic and reason, in search of the all-encompassing beauty that songs like this let us taste - The Apotheosis.
All I ever wanted
All I ever needed
Is here in my arms
Words are very unnecessary
They can only do harm
24. Blink-182, "I Miss You"
April 3-16, 2004
Verse lyrics don't have to cohere as long as a few key phrases on the track resonate. A well-placed "we'll have Halloween on Christmas" or "stop this pain tonight" joined by a recurring "I miss you" can help you get away with a "like indecision to call you and hear your voice of treason" or an inexplicably cockneyfied reference to "moy ed." If you're lucky, these indulgent peculiarities might distract listeners as the keyb-string swells, xylophone plinks and sentimental cliches wedge into their guts.
Where are you and I'm so sorry
I cannot sleep I cannot dream tonight
I need somebody and always
This sick strange darkness
Comes creeping on so haunting every time
archives
links
Anthony Is Right
Popular
Boogie Fever
Land Of A Thousand Dances
e-mail
anthonyisright at gmail dot com