"bunch of crazy white people... "
Every Billboard Modern Rock Chart #1 through 2005, listed in order of preference.
73. Alanis Morissette, "Ironic"
March 16 - April 5, 1996
I stopped caring that she misused the word "ironic" when I realized she was trying to find a way to say "life's not fair" without whining.
It's like rain on your wedding day
It's a free ride when you've already paid
It's the good advice that you just didn't take
Who would've thought...it figures

74. Nine Inch Nails, "Only"
October 22 - November 25 & December 10-23, 2005
Why can't Trent work out his psychological issues over a "New Sensation" beat more often?
I'm becoming less defined as days go by
Fading away
And well you might say
I'm losing focus
Kinda drifting into the abstract in terms of how I see myself
75. Nirvana, "About A Girl (Live - MTV Unplugged)"
December 10-16, 1994
How come nobody talks about Dave Grohl's brisk brushwork, which helps give the song a drive that most unplugged performances tend to lack? Oh right, forgot.
I need an easy friend
I do, With an ear to lend
I do, Think you fit this shoe
I do, Won't you have a clue
76. Linkin Park, "Breaking The Habit"
August 28 - September 24, 2004
I love how just when the hipoisie finds a novel vibe, the mainstream almost telepathically notices and does it one better. Piling on the laptop bleeps'n'creeps and risking some high crooning without losing the intense thrust of their "I wanna grow up already!" aesthetic, they hit great heights that the Postal Service hasn't the energy the achieve.
I don't know what's worth fighting for
Or why I have to scream
I don't know why I instigate
And say what I don't mean
I don't know how I got this way
I know it's not alright
So I'm breaking the habit
I'm breaking the habit
Tonight
77. Pearl Jam, "Daughter"
January 8-14, 1994
Makes me think about Darlene Conner.
don't call me daughter, not fit to
the picture kept will remind me
don't call me daughter, not fit to
the picture kept will remind me
don't call me...
she holds the hand that holds her down
she will...rise above...
78. Everlast, "What It's Like"
December 28, 1998 - February 19, 1999 & February 27 - March 5, 1999
People have a tendency to only include the harder side of rap-rock when they think of the late 90s. When the dude who spat "Shamrocks & Shenanigans" shows up strumming a guitar over a drum loop and singing a pro-choice plea for empathy, that's rap-rock too.
Ive seen the good side of bad
And the downside of up
And everything between
I licked the silver spoon
Drank from the golden cup
And smoked the finest green
I stroked the fattest dimes at least a couple of times
Before I broke their heart
You know where it ends, yo, it usually depends on where you start
79. Faith No More, "Midlife Crisis"
August 8-14, 1992
So you've got this avant-garde vocal impressionist, Ozzy's drummer, a grindcore bassist, a competitive pumpkin farmer who appeared in
Bill & Ted's Bogus Journey
and the leader of Imperial Teen on pomp-keybs and together they whipped up some proto-Korn, this being one of their grandest and catchiest tunes. California just weirds me out.
You're perfect, yes, it's true
But without me you're only you
Your menstruating heart
It ain't bleedin' enough for two
It's a midlife crisis...
80. Alanis Morissette, "You Oughta Know"
July 22 - August 25, 1995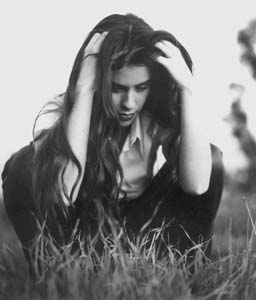 Alanis: Hello, my name is Alanis Morissette. You killed my innocence: prepare to die.
Dave Coulier: Stop saying that!
Alanis: My NAME is ALANIS MORISSETTE. YOU KILLED MY INNOCENCE: PREPARE TO DIE!
Cause the joke that you laid on the bed that was me
And I'm not gonna fade
As soon as you close your eyes and you know it
And every time I scratch my nails down someone else's back
I hope you feel it...well can you feel it?

81. The Cure, "Friday I'm In Love"
June 13 - July 10, 1992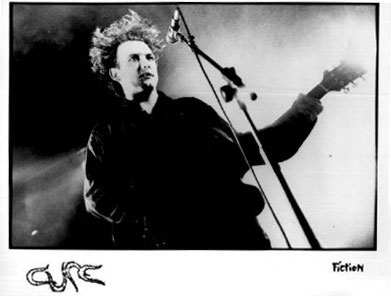 Thank god the music's gorgeous and the song climaxes with the blathery euphoria printed below, because Monday I'm a big boo boo Tuesday Wednesday oh poo poo Thursday blingy moo moo too it's Friday I realize how fucking annoying the verses are.
Always take a big bite
It's such a gorgeous sight
To see you eat in the middle of the night
You can never get enough
Enough of this stuff
It's friday I'm in love
82. Green Day, "Holiday"
May 7-27, 2005
Billie Joe's lyrical stance is too poetically obtuse to satisfy as firebrand, but the big accomplishment with
American Idiot
was restoring his guitar to full volume, helping this track swing with more indignant authority than "London Calling" even if BJ's faux Brit connotations should be rejected on principle, and even if its appearance in a TV ad took a few months rather than a few decades. The swagger is just too superficially addictive.
Hear the dogs howling out of key
To a hymn called "Faith and Misery"
And bleed, the company lost the war today
I beg to dream and differ from the hollow lies
This is the dawning of the rest of our lives
On holiday

83. Sugar Ray, "Fly"
August 2 - September 26, 1997
They took a bunch of great lines that had nothing to do with each other and slapped them onto a great track that had nothing to do with their sound: this track is experimental! When America gave it a thumbs up, they had the humility and gratitude to drop their obnoxious aggro and make reflective alternapop, something they were actually
good
at, their new mission. Much love, guys.
All around the world statues crumble for me
who knows how long I've loved you
everywhere I go people stop and they see
twenty-five years old my mother God rest her soul
84. Jet, "Cold Hard Bitch"
May 8-28, 2004
Bon Scott b-side.
Cold hard bitch
Just a kiss on the lips
And I was on my knees
I'm waiting, give me
Cold hard bitch
She was shakin' her hips
That's all that I need
archives
links
Anthony Is Right
Popular
Boogie Fever
Land Of A Thousand Dances
e-mail
anthonyisright at gmail dot com