"bunch of crazy white people... "
Every Billboard Modern Rock Chart #1 through 2005, listed in order of preference.
205. REM, "Bang And Blame"
December 17, 1994 - January 6, 1995
Michael decries using sex as a weapon while the band goes for a suitably bitter and groiny feel. It's pretty funny.
You've got a little worry,
I know it all too well,
I've got your number,
But so does every kiss-and-tell
Who dares to cross your threshold,
Or happens on your way,
Stop laying blame.
You know that's not my thing.
206. Alanis Morissette, "Hand In My Pocket"
October 14 - 20, 1995
Who am I to deny her happiness?
What it all comes down to
is that I haven't got it all figured out just yet
cuz I got one hand in my pocket
and the other one's giving a peace sign
207. Weezer, "Beverly Hills"
July 2-8, 2005
What kind of person sucks all the confidence & humor out of "The Joker" but keeps the squawk-box?
The truth is I don't stand a chance
It's something that you're born into
And I just don't belong
208. Trapt, "Headstrong"
May 31 - July 4, 2003
A jingle for headache medicine that might give you a migraine. Crafty!
Back off, I'll take you on
Headstrong to take on anyone
I know that you are wrong
And this is not where you belong
209. Public Image Limited, "Disappointed"
July 29 - August 4, 1989
It's a little dated.
Promises, promises
Old tired, worn out second hand sentences
One thing, with you is certain
You're a really sad person. So sad.

Disappointed a few people
When friendship reared its ugly head
Disappointed a few people
Well, isn't that what friends are for?
210. Julian Cope, "Charlotte Anne"
January 21-27, 1989
Probably the only "musician, writer, historian, and cosmic shaman" (AMG) who ever sounds like Howard Jones giving props to XTC.
Haul me out of water
pour me onto the land
beneath the sky there is an open fire

I do understand
211. Dishwalla, "Counting Blue Cars"
June 29 - July 2, 1996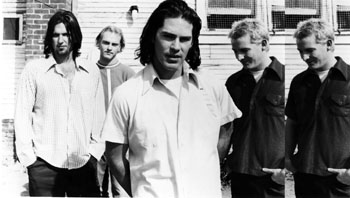 The aggrivating hook is nestled in a sweet song about the casually liberal theology of a tyke, but it took almost a decade after its omnipresence for me to notice. "Shine," another nightmare from my youth, sounds even worse today, so Dishwalla was doing something right.
Must of been late afternoon
On our way the sun broke free of the clouds
We count only blue cars
Skip the cracks in the street
And ask many questions
Like children often do
212. Oasis, "Champagne Supernova"
April 6 - May 10, 1996
David Spak, a friend from high school, told me that he had to endure the entirety of this epic during his driving test. I can only imagine what kind of hell that was.
Wake up the dawn and ask her why
A dreamer dreams she never dies
Wipe that tear away now from your eye
Slowly walking down the hall
Faster than a cannonball
Where were you when we were getting high?
213. Saliva, "Always"
February 1 - 7, 2003
Saliva is, without question, the worst band name I've ever heard of. What also makes this drama-rawk interesting is the curiously gendered lyrics printed below. But that's it.
I see the blood all over your hands
does it make you feel more like a man
was it all just a part of your plan
the pistol's shakin' in my hands
and all I hear is the sound

I love you
I hate you
I just can't live without you
I breathe you
I taste you
I just can't live without you
214. Goo Goo Dolls, "Name"
October 7-13, 1995 & October 28 - November 17, 1995
Caught between eras of Westerberg tribute (this song has nothing on
All Shook Down
's "Nobody") and unabashed VH1 balladry, "Name" isn't as moving as their music once was and would be again. P.S. I am not insane.
And scars are souvenirs you never lose
The past is never far
Did you lose yourself somewhere out there
Did you get to be a star
And don't it make you sad to know that life
Is more than who we are
215. Church, "Metropolis"
April 14-20, 1990
Knowing that pretentious, godly-to-the-newbie mushmouth has always been the status quo with collegiate rock makes me sympathize with the youth of today. It also makes me loathe my inner adolescent.
Back in Metropolis, circuses and elephants
Where the oranges grew
And back in Metropolis nothing can ever topple us
When I'm standing with you
And back in Metropolis talk about a holocaust
And then visit the zoo
And back in Metropolis the weather is ridiculous
What's it all leading to
216. Midnight Oil, "Blue Sky Mine"
April 7 - 13, 1990
Back in the day, modern rock was about making you think. Capturing the socialist desires of the proletariat in an arguably jaunty jingle. That kind of thing.
So I'm caught at the junction still waiting for medicine
The sweat of my brow keeps on feeding the engine
Hope the crumbs in my pocket can keep me for another night
And if the blue sky mining company won't come to my rescue
If the sugar refining company won't save me
Who's gonna save me?
archives
links
Anthony Is Right
Popular
Boogie Fever
Land Of A Thousand Dances
e-mail
anthonyisright at gmail dot com