"bunch of crazy white people... "
Every Billboard Modern Rock Chart #1 through 2005, listed in order of preference.
61. Gin Blossoms, "Found Out About You"
January 15-21, 1994
I may be overrating this due to "Hey Jealousy"'s absence from the list, but despite Robin Wilson's failure to deliver would-be-Westerberg-wound-up-Stinson Doug Hopkins' lyric with any bite whatsoever, they achieve enough hook & harmony to compensate. Post-R.E.M. state of the middle of the road.
Whispers at the bus stop
I heard about
nights out in the school yard
I found out about you
I found out about you
62. Morrissey, "The More You Ignore Me, The Closer I Get"
April 2 - May 20, 1994
For someone whose lyrical content has been so thoroughly dissected, the best Morrissey songs contain lots of gratuitous sighs, la's, ahhhh's, and scatting. A good tune drove the bitter egomaniac to nonsensical reverie, proving his claims of a bumbling desire for love. It's a humanizing quality sorely lacking in his recent material, making fluff like this even more precious in hindsight.
I am now
a central part
of your mind's landscape
whether you care
or do not
yeah, I've made up your mind
63. Bush, "Swallowed"
November 16, 1996 - January 3, 1997
We could complain about bands like Pavement and Bush swiping sonic templates and mainstreaming the songwriting, or we could thank them for writing the sappy power ballads the Swell Maps and Pixies respectively failed to include on
A Trip To Marineville
and
Surfer Rosa
. When someone waters down another artist's innovations we get to have our cake and eat it too.
Piss on self-esteem
Forward Busted knee
Sick head
Blackened lungs
And I'm a simple selfish son
64. Beck, "Loser"
February 5 - March 11, 1994
It's hard to associate the sardonic enunciation here with the bland somnabulist of today. I can tell why some people thought the verbal smirks signified a new Dylan, but it's now obvious this assumed cynic was just nervous about his musical appropriations, something he'd sadly outgrow.
In the time of chimpanzees I was a monkey
Butane in my veins and I'm out to cut the junkie
With the plastic eyeballs, spray-paint the vegetables
Dog food skulls with the beefcake pantyhose
65. Sugar Ray, "Every Morning"
February 2-26 & March 3 - April 9, 1999
If I was Greil Marcus I'd say this track is the link between Michael Penn's "No Myth" and Trick Daddy's "Sugar (Gimme Some)." Hell, I'll say it anyway!
Something's got me reeling
Stopped me from believing
Turn me around again
Said that we can do it
You know I wanna do it again
66. Mighty Mighty Bosstones, "The Impression That I Get"
June 28 - July 4, 1997
I remember catching a two-tone suited, pre-TRL Carson Daly hosting a "Skaturday" special at the MTV Beach House the summer this broke. I'd like to think that Carson sings along to this if it comes on the radio, but he's probably not that cool. Maybe he feels like he's known real struggle and can't relate to the band's giddy humility. Maybe, on his downtime, he just listens to Prince Buster.
I'm not a coward,
I've just never been tested
I'd like to think that if I was,
I would pass
Look at the tested and think there but for the grace go I
Might be a coward,
I'm afraid of what I might find out
67. Red Hot Chili Peppers, "Give It Away"
October 26 - November 8, 1991
By the time this video came out, the cynicism of grunge was afoot and I was outgrowing Batdances (I didn't realize I'd put three together when I made the list, I swear).
Lyrically
, this may be the concept's apex, a naked treatise on the merits of open sexuality, communal bonding, antimaterialism and Bob Marley, setting the stage for a great four years at college (if only I had been listening!). What they'd like is they'd like to hug and kiss you, and everyone can enjoy that.
I'm a low brow but I rock a little know how
No time for the piggies or the hoosegow
Get smart get down with the pow wow
Never been a better time than right now
68. Jane's Addiction, "Been Caught Stealing"
October 27 - November 2 & November 22 - December 16, 1990
Jane's never grabbed me when I could have been there (and you had to be there, man), but I'll always grant them these three plus minutes of dogs barking, diddlybop and casual anarchy (see previous post re: Batdances).
She walk right through the door.
Walk right through the door.
Hey all right! If I get by, it's mine.
Mine all mine!
69. R.E.M., "Stand"
January 28 - February 10, 1988
In hindsight, for this excessively literate child of the late 80s, nerdy, kid-friendly videos led to new wave/college rock, which led to reading glowing reviews of new wave/college rock, which led to classier reasons to like new wave/college rock, which led to buying the alt-canon whole hog, which led to forgetting that at one point I thought the multi-culti dancers getting down to the wah-wah solo
were
R.E.M. - a gawkier Hooray For Everything. It wasn't the spirit of The Velvet Underground that first brought me to the scene, it was a variety of Batdances.
If wishes were trees, the trees would be falling
Listen to reason
Reason is calling
Your feet are going to be on the ground
Your head is there to move you around
70. Primitive Radio Gods, "Standing Outside A Broken Phone Booth With Money In My Hand"
July 27 - September 6, 1996
No image signifies "the 90s" for me more than this cover. Song's pretty damn 90s too.
Am I alive or thoughts that drift away?
Does summer come for everyone?
Can humans do as prophets say?
And if I die before I learn to speak
Can money pay for all the days I lived awake
But half asleep?
71. Belly, "Feed The Tree"
March 6-26, 1993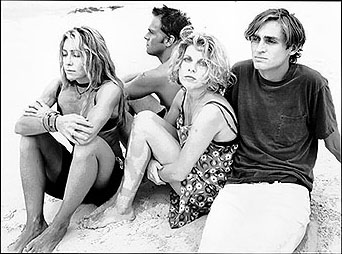 A gothically poetic plea for respect that actually rocks! A Throwing Muses spin-off nominated for the Best New Artist at the Grammys! Lilith Fair may have been more commercially pronounced, but it's this slightly earlier moment in feminist pop-rock, the Kennedy years, that I'm actually nostalgiac for.
This little squirrel I used to be
Slammed her bike down the stairs.
They put silver where her teeth had been.
Baby silvertooth, she grins and grins.
72. U2, "The Fly"
November 9-22, 1991
I think I only caught this once or twice on MTV when it was released - "Mysterious Ways" quickly replaced it as the single of choice - but even with my less defined concept of U2, I was weirded out. I can't imagine what the Mekons and beyond thought of "The Fly" (not to mention The Fly) when it was first unleashed upon us. Whatever the good intentions may have been, the consequences of this media onslaught and accepted paradigm shift were hideous: ad execs got help associating techno with cars, 90s arena bands who didn't want to self-nullify like Pearl Jam instead approached sex and grandeur through irony (not as fun as we hoped - e.g. Ed Kowalcyzk in feather boa,
Monster
), and the Pixies broke up quicker than they might have otherwise. Despite the crimes at their feet, the song remains one of the strongest of their grody dance numbers, with Bono insinuating his biblical bull into the groove rather than wailing above it. Determined to seduce and forced to obscure their manifest destiny, they offered more of an aural excuse for their existence in 1991 than they ever have before or since.
A man will beg
A man will crawl
On the sheer face of love
Like a fly on a wall
It's no secret at all
archives
links
Anthony Is Right
Popular
Boogie Fever
Land Of A Thousand Dances
e-mail
anthonyisright at gmail dot com