"bunch of crazy white people... "
Every Billboard Modern Rock Chart #1 through 2005, listed in order of preference.
145. Ned's Atomic Dustbin, "Not Sleeping Around"
January 16, 1993
"The term 'Grebo' was originally used in England in the mid to late 70s as the name of a line dance that Heavy Metal Rockers (and sometimes new wave kids and piss taking punks) would do en masse. Often, several 'greasy heavy rockers' would line up facing eachother in two rows, and the dance basically consisted of simultaneously rocking the hips from side to side while leaning forward and crossing the arms alternately followed by punching towards the ground in time with the music (Status Quo, Slade, Rainbow etc.). The hands were usually fisted or often 'flipping the bird' during the crossing part. Great dancing skill was not necessary. And PWEI didn't coin the phrase."
-
Wikipedia
, as of 4/6/06
You keep thinking i'm tired of you but i'm just tired
While i keep saying you're sick of me but you're just sick
It's in keeping with your not sleeping around
146. Lostprophets, "Last Train Home"
April 24, 2004
By the time I'm sixty, when male CEOs occasionally wear black nail polish and eyeliner and figures of power cop to being moody, this song will be used in a presidential campaign.
But we sing
If we're going nowhere
Yeah we sing
If it's not enough
And we sing
Sing without a reason
To ever fall in love

147. Hoodoo Gurus, "Come Anytime"
August 26 - September 9, 1989
A nerdy sexual invite and classic example of the Gordon Gano school of thought.
What is it you want from me?
There isn't much I will not do.
If it's only company,
You know, I might need that too.
Won't you come anytime - I'm a man of leisure,
Come anytime, I await your pleasure.
148. B-52's, "Channel Z"
August 5 - 25, 1989
Cosmic Thing
is one of my favorite albums of all time, and this is one of the few tracks on it that fans of the earlier albums give much respect to (probably because of the spazzy vocals, topical lyrics and surfy guitar). That exceptional acclaim is probably why I'm underrating it. I'll push it further up when people start talking about the ecology again.
Space junk! laser bombs! Ozone holes!
Better put up my umbrella!
Giant stacks blowin' smoke!
Politicrits pushin' dope!
149. Linkin Park, "Lying From You"
May 29 - June 18, 2004
A grammatically questionable and rather redundant entry in the Linkin singles repertoire that still rap-rocks hard enough for frustrated meditation during a video game.
I remember what they taught to me,
Remember condescending took for what I ought to be
Remember fussing and all of that and this again
So I could turned it up to the person who was feeling it
150. Cure, "Fascination Street"
May 6 - June 23, 1989
He can't decide whether he's making a club track or a guitar epic, but when Robert Smith announces "let's move to the beat," he almost pulls off both.
so pull on your hair
pull on your pout
cut the conversation
just open your mouth
pull on your face
pull on your feet
and let's hit opening time
down on fascination street
151. David J, "I'll Be Your Chauffeur"
August 18 - 24, 1990
It's no "Ignition (Remix)," but, for a lightweight shuffle from the bassist for Love & Rockets, it ain't bad.
I'll be your chauffeur
No diversion shall deter
I'll wear the uniform
The engine shall purr as if metal were fur
152. Green Day, "Minority"
September 30 - November 3, 2000
"I wanna be a minority" may be specious, but "down with the Moral Majority" sure aint. And with these guys, you're lucky to get any concrete political sentiment at all.
I pledge allegiance to the underworld
One nation under dog
There of which I stand alone
A face in the crowd
Unsung, against the mold
Without a doubt
Singled out
The only way I know
153. Live, "Selling The Drama"
May 21 - June 10, 1994

Toad The Wet Sprocket with a little more oomph, a little more nad.
I've willed, I've walked, I've read
I've talked, I know, I know,
I've been here before

hey, now we won't be raped
hey, now we won't be scarred like that
154. Peter Murphy, "Cuts You Up"
February 10 - March 30, 1989
What Brandon Flowers might sound like when gen-Y is 30. Better than any Bauhaus I've heard, but, God, how little that means.
You know the way it throws about.
It takes you in and spits you out.
It spits you out when you desire
to conquer it, to feel you're higher.
To follow it you must be clean,
with mistakes that you do mean.
Move the heart, switch the pace,
Look for what seems out of place.
155. Suzanne Vega, "Blood Makes Noise"
October 10 - 16, 1992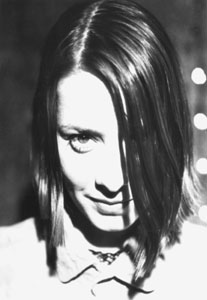 A woozy industrial Mitchell Froom production from Suzanne Vega about finding out you've got HIV. #1. 1992, man.
Cause blood makes noise
It's a ringing in my ear
Blood makes noise
And I can't really hear you
In the thickening of fear
156. eels, "Novocaine For The Soul"
October 12 - 25, 1996
Hard to be taken seriously as the most weathered artist of the alternapop era (the first big Spike Jonze video through the last big Tibetan Freedom Concert) when you sing like Jamie Walters. Fun fact: eels did not record "The World I Know."
Life is hard and so am I
You better give me something
So I don't die
Novocaine for the soul
Before I sputter out
archives
links
Anthony Is Right
Popular
Boogie Fever
Land Of A Thousand Dances
e-mail
anthonyisright at gmail dot com