"bunch of crazy white people... "
Every Billboard Modern Rock Chart #1 through 2005, listed in order of preference.
121. 10,000 Maniacs, "These Are Days"
November 21 - December 4, 1992
Her precious sentimentality about youth sounds better when she uses the second person more than first, and when the guitarist, drummer and organist demand equal time. Plus I was a kid when I first heard this, so fuck off.
These are days you'll remember.
When may is rushing over you with desire to be part of the miracles you see in every hour.
You'll know it's true that you are blessed and lucky.
It's true that you are touched by something that will grow and bloom in you.
122. R.E.M., "Drive"
October 17 - November 20, 1992
It's their "Kashmir," their "Another Brick In The Wall," and they're unsurprisingly reticent about it.
What if I ride? what if you walk?
What if you rock around the clock?
Tick-tock, tick-tock
What if you did? what if you walk?
What if you tried to get off, baby?
123. Linkin Park, "Somewhere I Belong"
April 12 - May 10, 2003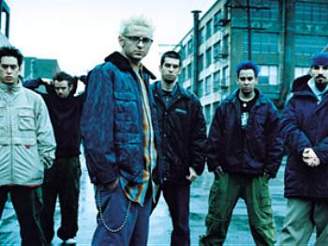 Your last album declared you were finished with anguish. So how do you kick off a follow-up? Announce how much you'd really
like
to live up to the previous claim. And who can't relate?

I wanna heal, I wanna feel what I thought was never real
I wanna let go of the pain I've held so long
(Erase all the pain till it's gone!)
I wanna heal, I wanna feel like I'm close to something real
I wanna find something I've wanted all along
Somewhere I belong

124. Siouxsie & The Banshees, "Kiss Them For Me"
July 6 - August 3, 1991
I'm surprised this actually hit the pop top 30 and not just because it's Siouxsie & The Banshees; this is a pretty mundane if catchy "eastern"-inflected dance track. I guess it was ten years before Panjabi MC, though. And Jesus Jones went top ten.
"Nothing or no-one will ever make me let you down"
Kiss them for me--I may be delayed
Kiss them for me--if I am delayed
125. Cure, "Never Enough"
September 29 - October 12 & October 20-26, 1990
British baggy swagger was a groovy train I couldn't even find attractive in elementary school, but with Robert Smith gasping all over his wonkyhonk leads, I enjoy this gaudy Bez-bait as a trainspotting change of pace.
So let me hold it up just one more go
Holding it over just once more
One more time to fill it up
One more time to kill
Whatever I do it's never enough
126. Tears For Fears, "Sowing The Seeds Of Love"
October 14-20, 1989
Back when I owned the cassingle and played my parents' copy of the 'blue' best-of religiously, I didn't even realize this song was a Beatles homage. I figured it was what good pop music SOUNDED like! Gratutious echo, trumpet break, gospel singers, sing-along chants about the necessity of love - all this goo goo g'joob was just par for course.
Open hearts - feel about it
Open minds - think about it
Everyone - read about it
Everyone - scream about it
Everyone - read about it, read about it
Read in the books in the crannies and the nooks there are books to read
127. REM, "Orange Crush"
November 26, 1988 - January 20, 1989
"Vietnam, what a sexy war." - MC5
We'd circle and we'd circle and we'd circle to stop and consider and
Centered on the pavement stacked up all the trucks jacked up and
Our wheels in slush and orange crush in pocket and all this here county
Hell any county it's just like heaven here and I was remembering and i
Was just in a different county and all then this whirlybird that i
Headed for I had my goggles pulled off I knew it all I knew every back
Road and every truck stop
128. Psychedelic Furs, "All That Money Wants"
October 1-21, 1988
Every review I find describes this song as being cynical, but either the point is flying over my head or everybody's just assuming, based on Richard Butler's voice and the lack of the words "heart" or "love" in the title. Personally, it's about a guitar riff and Richard Butler's voice.
city sky comes down like rain
through all the alleys to the sea
I hear footsteps getting louder
drowning in my sleep
painted lies on painted lips
that promise heaven tastes like this
I don't believe that I believed in you
all that money wants
129. Lifehouse, "Hanging By A Moment"
January 27 - February 16, 2001
Kasenetz & Katz hookin' up with Creed on a sunshine day.
I'm falling even more in love with you
Letting go of all I've held onto
I'm standing here until you make me move
I'm hanging by a moment here with you
130. Chumbawumba, "Tubthumping"
November 1 - December 19, 1997
Either it's aged surprisingly well or I haven't.
He drinks a whisky drink
He drinks a vodka drink
He drinks a lager drink
He drinks a cider drink
He sings the songs that remind him of the good times
He sings the songs that remind him of the better times
131. Staind, "So Far Away"
September 20 - October 31 & November 15-21, 2003
Staind passes that kidney stone, sighs in relief, and records a lumbering rewrite of the Used's "The Taste Of Ink." The pinnacle of their career.
Now that we are here, it's so far away
and I feel like I can face the day,
and I can forgive,
and I am not ashamed,
to be the person that I am today

132. Foo Fighters, "Learn To Fly"
November 6-12, 1999
Hated this song back when it signified watering down and the lack of Pat Smear (remember Pat Smear?). Stripped of its shitacular video, and with over half a decade of Foo following, it sounds sweet and tuneful. Everything's relative.
We live happily ever trapped
If you just save my life
Run and tell the angels
That everything is all right

archives
links
Anthony Is Right
Popular
Boogie Fever
Land Of A Thousand Dances
e-mail
anthonyisright at gmail dot com